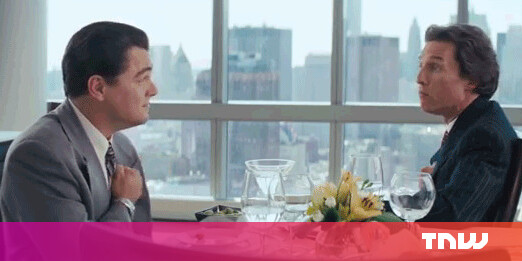 Take Wall Street by Storm and Learn to Trade Stocks with TNW Academy
Have you thought about trying your luck in the stock market? Before diving straight into the world of trading and investing, it may be best to take a step back, slow down a bit, and familiarize yourself with the philosophy and art of trading before emptying your pocket.
There's more to trading stocks than Scorsese describes the wolf of Wall Street and – while very entertaining – DiCaprio's impersonation of infamous stockbroker Jordan Belfort is probably not the most appropriate model for you to follow when striving for consistent profits in the market.
AT TNW Academy, we want to give you the model for success in the stock market and that's why we recently teamed up with veteran trader and investor Joe Marwood, who for the past few years has been teaching beginners as well as advanced traders how to trade successfully and manage effectively stock portfolios. Joe is also the course instructor How to Beat Wall Street which is available on TNW Academy.
We asked Joe to share with us some of the most valuable trading and investing insights he's learned over the years, and that's what he told us.
What is stock trading and who is it for?
Joe Marwood: A stock is simply a piece of ownership in a company and issuing shares is the primary way a company raises capital to fund new projects. While most people have an idea of ​​what a stock is, the majority of them don't know how to approach this complex and important topic.
Some investors buy stocks and hold them for the long term while others prefer to trade for short periods. By doing so, they hope to buy and sell within minutes, hours, or days and profit from the daily price movements of the stock.
Thanks to the internet and the introduction of e-commerce, the cost of trading stocks is lower than ever, which is why there has never been a better time to learn how to trade and invest successfully. Although there is a learning curve, the stock market is a completely meritocratic system, so with some knowledge and understanding anyone can become a successful and profitable trader.
What is the best advice you can give to a beginner trader?
JM: For anyone interested in trading in the stock market, the first step is to learn the basics of how the stock market works and what events cause a stock to fall or rise.
Learn fundamental analysis (which is the study of fundamental data such as macroeconomics and business finance), learn technical analysis (which is the study of chart patterns and price action) and learn about risk management (which governs how much you should bet and how to preserve capital).
Once you have learned the basics, be prepared to spend many weeks and months in a demo trading account where you can practice your trading without risking real money. Once you have been able to make profits consistently, switch to live trading very slowly. Only gamble and risk money that you can comfortably afford to lose.
One piece of advice I can give you right from the start is to only risk small amounts on a single trade, like 1 or 2% of your capital. Also, never be tied to a trade. Make sure you are able to exit the position at any time without emotion.
What are the chances of failing in the stock market and how to avoid unsuccessful trades?
JM: An oft-quoted statistic is that 90-95% of stock market traders lose money. However, this figure is misleading as the actual odds will depend on the type of trading you are doing, the time frame you are considering and your level of knowledge and experience.
It is certainly true that a large number of newbie traders will lose money and the evidence suggests that most of them will give up within 12 months. But that number also includes anyone who gambles and sees stock trading as an easy way to get rich (which it isn't).
In general, longer-term trading is more profitable than short-term trading, and traders who are properly capitalized from the start have a much better chance of success.
The key to a long and successful trading career is adopting a strategy that suits your personality and implementing it with careful money management, where you only risk a small percentage of your capital each time. times you bet.
I have known many successful traders over the years and the key is to stay disciplined and consistent in your approach.
Why do people need trading and investing education?
JM: It's funny because finance is one of those subjects that is rarely taught in schools and colleges, which is a shame because learning how to manage finances is one of the most important life lessons you can learn.
By understanding this area, you can make key decisions about what to do with your money and these decisions can lead to greater wealth down the road as well as new career options.
When it comes to trading and investing in stocks, there is also a lot of misinformation online and that is why I consider it my duty to educate people on the truth.
Trading and investing is my passion after all, and in the How to beat the wall Of course, I reveal all the things that have worked for me for many years.
What's the best way to learn?
JM: Unfortunately, there are a growing number of trading courses and seminars that cost thousands of dollars and only scratch the surface of what is really needed to trade successfully. That's why the best advice I can give you is to take online courses, read lots of books, and spend lots of time practicing your trading on a simulator.
I learned to trade by throwing myself head first into the fire but that's not a strategy I recommend. Instead, it's important to gain a solid understanding of the basic concepts and then move on to learning the advanced strategies needed to trade successfully.
In the How to Beat Wall Street of course, I cover much more than the basics. I reveal a number of strategies that I have personally used to make money in the markets. And if you follow all the concepts taught in the course, you can take your trading to the next level.
What else can students expect to learn?
JM: During the course, you will learn all the techniques needed to trade the stock market in the short and long term. You'll learn about fundamental analysis, macroeconomics, chart patterns, risk management, advanced trading strategies and more.
But you'll also learn some key life lessons that will ensure you have a much brighter future after you complete the lectures. For example, you will learn:
Why nothing in life is ever certain. (That's why you should always trade cautiously and not risk too much in the process).

A simple and effective strategy to invest your money each month and prepare for your retirement (technique used by pension funds around the world).

Key market principles and ideas that can help you get a job in the financial industry (such as an investment bank or hedge fund).
Why is it How to Beat Wall Street a must for all budding traders?
JM: Essentially, the How to Beat Wall Street stands out from all other finance courses because it contains a number of unique trading and investment strategies that I have personally designed and use with my own money. These strategies are turned into programming code and then back-tested live on historical stock market data so you can see exactly how they would have performed over the past 15 years. They are precise systems, built and explained in a meticulous and scientific way.
For example, one of the strategies included in the course is based on buying stocks with volume breakouts. I run the system live on the course and it has been shown to produce over 20% annual returns over the past 15 years.
While other finance courses talk about tasteless trading methods that may or may not work in live markets, I've used my skills as both a trader and a programmer to come up with trading ideas and show you exactly how they work in a simple and simple way. to understand the language.
So, taking the How to beat the wall Street Courses you will not only have access to over 30 original trading ideas, but you will see exactly how these strategies have worked over time, you will learn how and why they work, allowing you to come up with your own trading ideas. trading. as well as.
Once you have mastered the concepts taught in this course, you will know the truth about trading and investing and your life (and your bank balance) will never be the same.

➤ Learn more about How to Beat Wall Street: The Course